Salsa Shoes Help Make You A Better Dancer
Salsa dance shoes are highly recommended if you plan to stay involved in dancing Salsa, Bachata, Cha Cha Cha, Kizomba or other types of partner dancing.
What is different about Salsa shoes?
A shoe designed for Latin partner dancing is light weight. Additionally, the soles are made of suede. Unlike leather, suede is the inside part of the hide. It has a softer feel that is similar to velvet. This type of sole offers the right amount of friction to help guard against slipping and yet make it easy for you to spin.
How To Care For Salsa Shoes
The lighter weight materials that make a Salsa shoe means that they are more delicate than a street shoe. So, don't wear them outdoors or on any surface except wood or smooth floors. You should also get a shoe brush to help keep the nap of the suede sole as friction-less as possible.
A shoe brush is made of metal bristles. Be sure to stroke the suede over a trash bin since it will be scraping away dirt and oils picked up from the floor. While removing debris, the shoe brush will also fluff up the nap of the sole to get it ready for the next use. Lastly, we recommend keeping your shoes in a shoe bag to help protect them from picking up dust or stains. Visit our friends at The Dance Store for thoughts special oils and tips on cleaning and maintaining dance shoes.  
Buckle Style
For ladies heels there are a couple of buckle styles. The speed buckle is common with performers who may need to do a quick costume change. Clara says that it holds up just as well as a standard buckle in her experience.
Laces
Flat Salsa shoes can come in slip on or lace up shoes. I like a more snug fit so I prefer lace up. I feel less secure in my footing in a slip on shoe for dancing.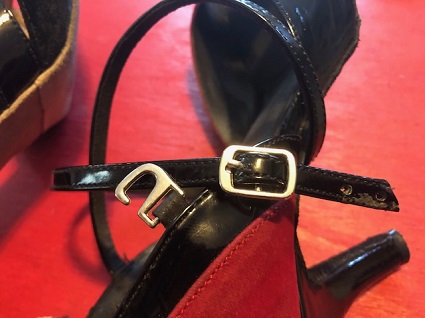 Salsa Shoe with Speed Buckle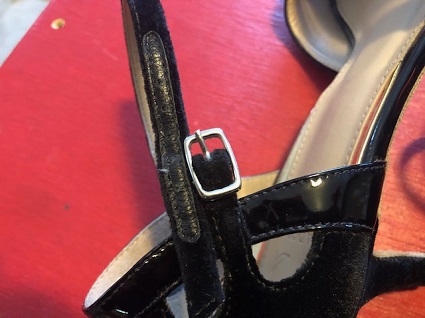 Salsa Shoe with Standard Buckle
Dance Sneaker
Another option is the dance sneaker. This is a great option if you don't want to dance with heels. Also dance sneakers are sometimes available in a plastic sole that can be worn outdoors and still allow you to turn well when on a wood dance floor. When considering a dance sneaker, I'd not recommend getting one with a split sole. Get one with a sole across the entire bottom of the shoe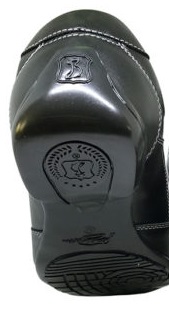 Solid Plastic Sole
Photo Credit: JBota
Heel Height
When selecting the height of your Salsa shoes, consider your own height. I suggest the goal of a heel is to adjust your height to make it more comfortable for you to dance with the average height of partners where you live. If you are a short guy, then an extra inch on your heel will make it easier for you to dance with taller ladies. For women, if you are already tall then a three inch heel will just make it harder for average height or shorter men to dance with you. Also think about the long-term health of your feet and back related to the long-term use of high heels. Ultimately, heel height is a personal preference.
When Should You Consider Buying New Salsa Shoes?
We recommend that buy Salsa shoes once you know that it will continue to be a part of your regular activities. If you are still just testing Salsa out and not yet sure about it, then maybe just wear shoes with a leather or smooth sole. Avoid anything with a rubber sole.
If you are a serious dancer, then examine your shoe. Once the nap has become matted or worn away to the point where you can't make it fluffy any longer then it is time to take action. Either have a shoe repair shop re-fluff or replace the suede bottom if the upper portion of the shoe is still in good shape. As far as that goes, you can even take a pair of shoes that you like and have a repair shop add a suede sole to regular shoes. Otherwise, just buy a new pair.
Your selection will need to consider fashion, comfort, durability, and price. In general, you get what you pay for.
You can keep your old Salsa shoes to use for practice or to use at clubs that don't have a very clean floor. I always keep an old pair in the trunk of my car. They are my backup in case I forget to grab my dance shoes when I leave the house for a night out.
So when you do buy a new pair of shoes for dancing, then just like street shoes, Salsa shoes vary in quality. Your selection will need to consider fashion, comfort, durability, and price. In general, you get what you pay for. Take a look at our Salsa Store for some great options on Salsa shoes. 

Talk Back: If you have any questions on dance shoes, please let us know. We'll be happy to help in any way that we can. Message us through our contact page.

Tell Others: If you find value in the article, please use a link on this page to share it with your friends on Facebook, Twitter, etc.
Join Our Dancer Community
Submit your information below and you'll get a complimentary subscription to our Salsa newsletter. 
Our email content is crafted for you. We listen to your interests and deliver training, inspiration, and news. We are void of hype, never pushy, and always free.
We will never sell your information to any third parties and you can unsubscribe to our messages at any time with the link at the bottom of the email (but you won't want to 😄).  View our full privacy policy.