Vote for Us
Your opinion matters a lot!
Well, it's not really a vote, but it kinda is. Here's the thing. It doesn't matter how much we tell people that we can really help them to learn to dance Salsa and have a great Latin dance party experience. Everybody makes a self claim of how great they are.
What really matters is when people who have taken our classes spend a few moments to comment on their Salsa experience with Salsa4Life. You will have a much stronger influence on the decision of potential new students than we can.
You can help with just 3 to 4 minutes.
If it is not too much to ask, can you leave a review for us online? I know it may have been a minute since you took our class. Hopefully you still recall enough of the experience and how it made you and others feel. All that is needed is a sentence or two and a click to give us a rating (hopefully 5 stars if we deserve it).
Taking just a few minutes to share your opinion will help us and future dance students a lot.
Sample of what to say.
We don't want to put words in your mouth. However, some people don't know what to say in their review. Here are a few thoughts that we've heard in comments from other dance students:
The class was challenging yet fun. 
The instructors and other students were friendly.
The class was well organized.
I got in a bit of cardio and lost some weight.
The instructors kept the class moving and focused.
When I needed extra help, the instructors paid attention to me.
Learning Salsa helped me become more social and confident.
When should you do this? Now.
The best time is right now if at all possible. We say that because after over 10 years in business, most of the people who have the good intention of leaving a review, just never seem to get around to doing it.
The best place to leave your opinion is in Google's reviews.
Can I Give A Review From My Phone? Maybe.
Our testing shows that the links below work best when done from a PC. There are mixed results on the success of getting the links below to work from an iPhone. Andorid and other apple devices have not been tested.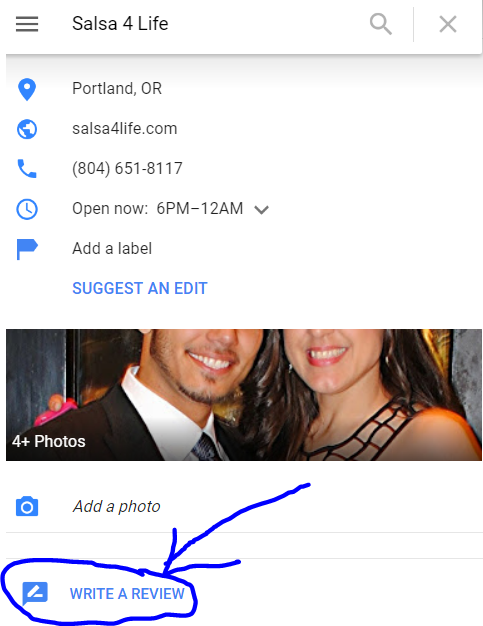 Just click here Salsa4Life:
Click the "Write A Review" button.
Want to help even more? 
Okay, for some of you, we just wore out our welcome. That's fine. Thanks for reading this even if you did't leave a review. If you did leave one, then copy it and let's reuse it.
The second best place to leave your review is in Yelp.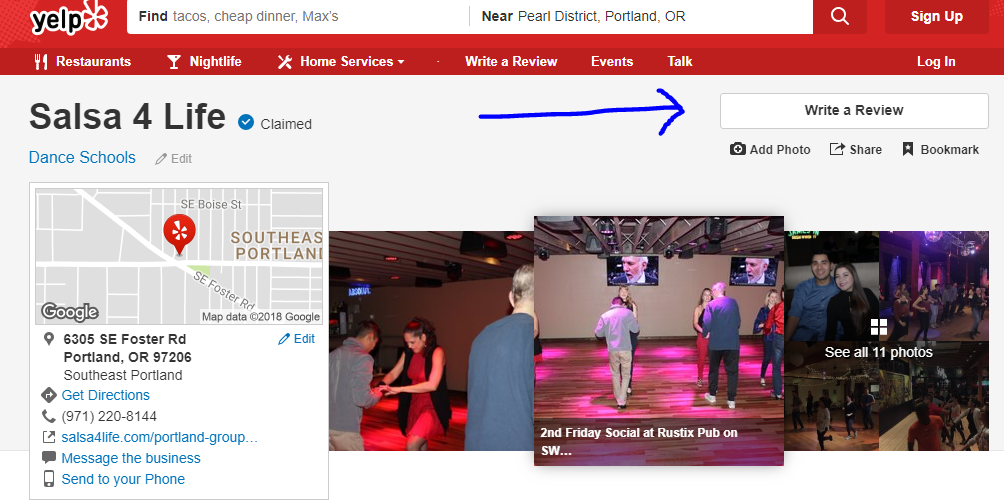 If you've never created a free Yelp account they will ask that you do so. It's really fast.
(Note that Yelp won't publish your review if you have only reviewed one business. They think you might be fake. But, if you've reviewed your most favoriate restaurant, or mechanic, etc., then they percieve you as a real person and not a spammer.)
Here's the link Yelp – Salsa4Life
Just paste what you said in Google right into Yelp. 
Again, thank you. We can't tell you how much your reviews will help us. You are awesome!
— Clara and Michael