A Guide for Salsa Dancing Etiquette for Students and Dancers
This is a great article about Salsa Dancing Etiquette published by our friends at Toronto Dance Salsa dance studios.
Salsa clubs have their very own code of ethics and conduct that may sometimes not be apparent for new dancers. To make your dance experience as well as your partners' and the dancers around you more enjoyable, please take note of the following salsa club guidelines and tips.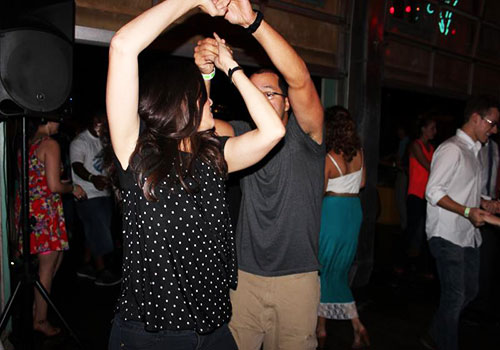 Related Article: Salsa Dress Code-What to Wear When Salsa Dancing
Positioning Yourself on the Dance Floor
You have just arrived at the salsa club and are anxious to begin dancing. Take a moment to familiarize yourself with the surroundings and the dance scene. Every club is different in terms of where it is appropriate to socialize, stand and dance. The edge of the dance floor is a great place to position yourself when you are ready to begin dancing. Try to refrain from bringing glasses or bottles close to the dance floor as it can be dangerous. Be aware of the dancers and give them enough space to maneuver. Do your best to always navigate yourself around the edge of the dance floor (not through the centre) and take your time to ensure you do not bump into a dancer.
There are many instances when a female is being spun and is bumped into by a passing patron/worker/dancer. This can be very dangerous and frustrating. Try not to congregate or socialize in groups around the dance floor. Most clubs have an area around the bar or to the sides for this and it will be less obstructive to the dancers.
Related Article: Tips To Grow As A New Salsa Dancer

Talk Back:  Learning and using these salsa dancing etiquette tips will help make your dancing experience even more enjoyable for you and others around you. We look forward to hearing about your experience with these ideas. Send us a note.

Tell Others:  If you find value in the article, please share it with your friends on Facebook, Twitter, etc.