What Causes Salsa Politics?

Our intent here is to explore in the next two articles, the most common areas where disrespect, and lack of observing common etiquette leads to the uncomfortable subject of Salsa Politics. We use the context of Salsa in this article but in all honesty, these thoughts apply to Ballroom and any other dance community or organized collection of people.

We often think of "Politics" in the context of people serving in public office, but the idea is nothing more than how individuals or groups of people interact with others in their efforts to achieve their personal or collective objectives. In the Salsa community, DJ's, Instructors, and Promoters all have the objective of seeing their events promotions become consistently successful.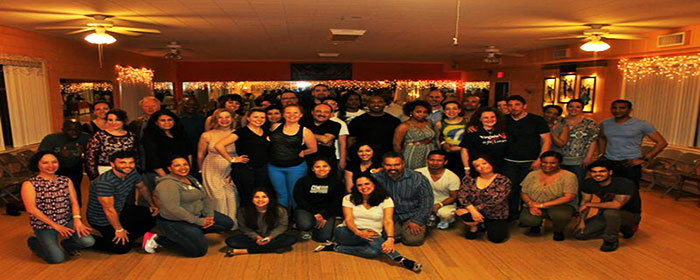 Related Article: How To Handle A Bad Dance Day
The Birth of Salsa Politics
These Leaders spend time and money to organize events and then promote the details of these events to the Salsa community. It is their ongoing efforts that help to keep Salsa alive and growing in the places that we like to dance. That dedication calls for our respect.
The political side of Salsa is found when these Leaders and their supporters interact in a way where one or both feel disrespected by other Leaders and/or their supporters. This disrespect gives birth to Salsa Politics.
The Salsa Feast
With that said, if you're reading this then there's a good chance that you are a person who enjoys going out to dance on the weekend. When your dance night rolls around, you are looking for three ingredients that cook into a delicious evening. It takes an appetizing venue, lots of scrumptious dancers, and a spicy DJ spinning the hottest in Salsa, and other Latin music.

These ingredients don't just accidentally get served up at the same place and time week after week. Nope. It calls for the ongoing hard work of a Leader to make that happen. Most of us never consider the amount of time and effort that happens behind the scenes each week. We give little thought to what it means to show up to host and befriend event guests in rain or shine, in sickness and in health, week after week. Over time this effort is rewarded with a growing crowd that consistently shows up to feast on the Salsa delicacies you prepare.
Now picture this. At the event that you've carefully nurtured and sweat to make happen, in walks Ms. Suzie Shiny Shoes. She has an arm full of flyers for a different Salsa event and she starts handing them out the crowd that you've painstakingly grown. This type of behavior almost always leaves a sour taste in mouth of the Leader who is hosting the event.
Related Article: 6 Tips for Salsa Dancing on a Budget
Promoting At Other Leader's Events
In general, it is not proper etiquette to engage in event promotions at someone else's event. This goes for handing out your business cards for dance classes, private lessons, or passing out flyers about another event. This applies to those who show up at an event that they are not hosting and they bring a fist full of business cards, flyers, or other promotional material. They then make it their mission to get something in the hands of as many people as they can, whether secretly or openly.
If you want to hand out your promotional material then ask permission from the host.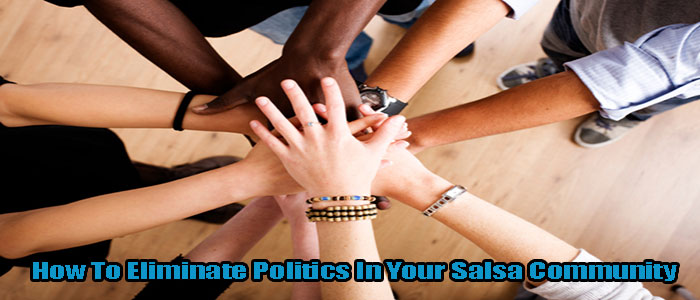 Some people try to avoid the hard work of relentlessly communicating through acceptable channels like newsletters, Facebook, etc. They then try to take a short-cut by going to already established events where they try to siphon away some of those people. This is offensive.
This expectation in the dance community does not apply when someone asks you for your card or they ask you about your event and you happen to have a card or flyer in your pocket or bag. We're talking about the "one-off" here being okay. Mass marketing is not.
Following these commonly accepted principles of event promotions is a good start towards eliminating politics in your Salsa community. If you don't, it can make the host of the event feel disrespected and other dancers may also think that it's tacky and not cool for you to do unauthorized promoting at another's event. Yes, this also applies if you are just the messenger and are promoting on behalf of a different Leader. Unless you've cleared it with the host of the event where you are, then it is best to find a different opportunity to get your message out.
If you want to hand out your promotional material then ask permission from the host. Learn what their feelings are about cross promoting and then respect how they feel. Don't just assume that it's okay to promote at other people's events.
Related Article: Salsa Dancing Etiquette
Some Leaders may be willing to make an announcement about your upcoming event. When they announce it for you, then the receptiveness of the dancers will be higher because they see another promoter helping you with your event promotions. However, do not expect a host to promote every week for you. A special event that happens annually or bi-annually is generally okay. With that said, it is still your responsibility to find ways to promote your regularly scheduled events in a way that doesn't result in creating political drama.
******
Don't forget to check out How To Eliminate Politics In Your Salsa Community-Part 2
******
Thanks to Clara Toro-Douglas for her heavy input into the content of this article.

Talk Back: What has your experience been with event promotion conflicts? Let us know in the comments below.  Hit us up on our contact page if you or someone you know would like to write about that for this website.

Tell Others: If you find value in the article, please use one of the links on this page to share it with your friends on Facebook, Twitter, etc.