All events are on hold until the Covid 19 virus pandemic is over. If in doubt, contact the venue directly.
Be safe. Please follow your state guidelines for Social Distancing.
With many of us working from home at the moment, we just wanted to check-in and let you know we are still here. We will make it through this together. When we do get back to business as usual, we'll get all of our event listings updated as the information becomes available to us.  God's best to each of you!
Enjoy Weekly Beginner Salsa Dance Classes in Portland, Oregon
This fun class includes an intro Bachata dance lesson.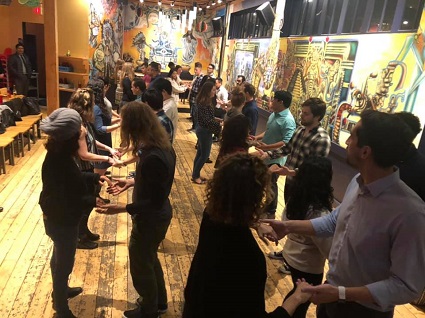 Join us Thursdays for the one hour Salsa lesson starting at 9:30 pm.
No prior dance experience and no partner is required.
The class is held at:
Santa Fe Taqueria at 831 NW 23rd Ave., Portland, OR
Social dancing from 10:30pm until 1am
Cover $7
The Salsa class is taught by Clara and Michael of Salsa4Life
in Partnership with
DJ Armando's SOS Salsa Social

Special Note:
If you need a Salsa dance class on a different day, you can find some other highly skilled beginner group Salsa and Bachata classes in Portland, Oregon with a google search.