Learn to Dance Salsa with
Salsa4Life Portland
Two left feet? No problem! No partner? Not necessary. We'll help you to progress to whatever level of proficiency you desire while keeping it fun in our Portland Oregon group Salsa lessons.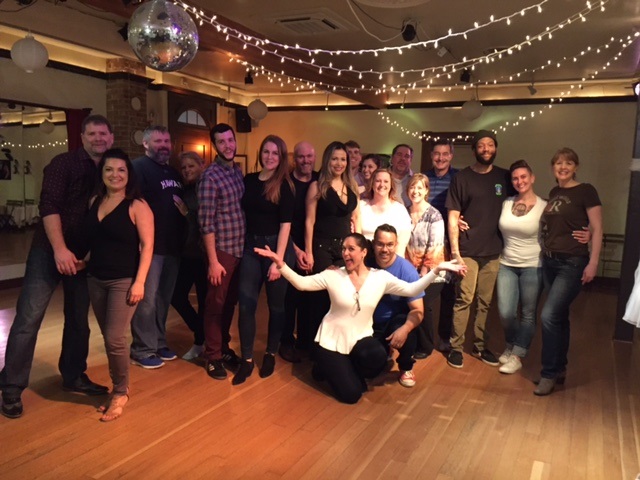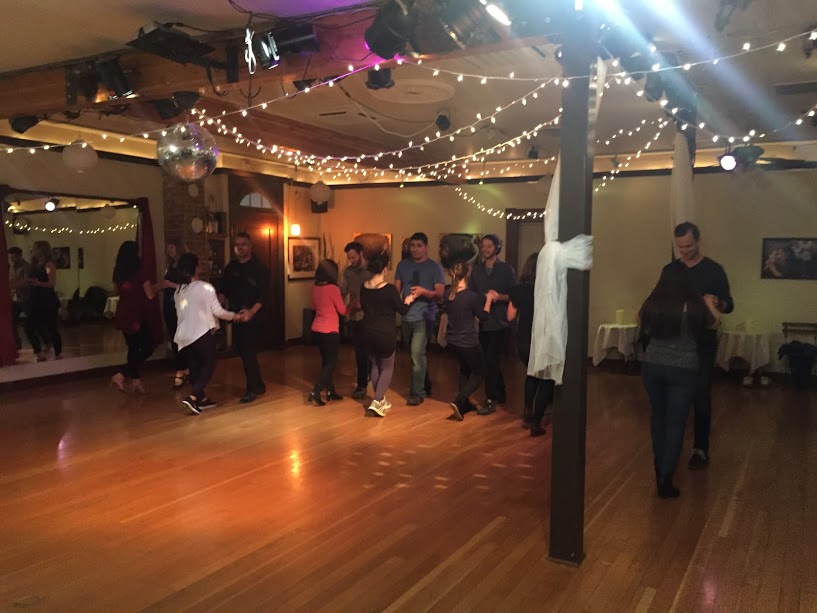 Salsa Level 1 - 4 Week Progressive Series
The Level 1 Salsa class offers students the basic fundamentals and introductory techniques of Salsa. Students learn the basic Salsa step, Cross Body Lead, simple combination turns and musicality. Each week you will learn something new and you will practice what you've learned from the previous week.
To benefit most out of our Portland Oregon group Salsa lessons, we encourage students to take all 4 classes. However, we understand that things happen that may cause you to miss a class. It's okay, since we always review the previous week's material.
Note: We will not accept new students after the 2nd week of the series.
Check out our class on their 4th week of learning Salsa!
Where We Teach
Our Portland Oregon group salsa lessons are held at Tango Berretin located at 6305 SE Foster Rd., Portland, Oregon 97206
When Are The Classes?
Our series start every 1st Thursday of each month.
Classes are held every Thursday except on Thanksgiving.
Salsa 4 Beginners| Time: 6:30pm-7:30pm
Where should you park near Tango Berretin?
(black lines indicate good spaces to park)
(note: please avoid parking in front of residential houses)
What Is The Cost?
Each four week series of lessons is $45 or pay $15 per class.
How Do I Register?
You may register for the classes at the door. We accept cash and credit cards. Cash is preferred. Or pay online with the drop down link below.
Recommendations When Attending Class
If you've taken classes before, you can get there at least 10 minutes early and let us know that you would like to be evaluated before class to see which class level is most appropriate for you.
Please arrive 10 minutes early to sign in or register.
• Register in advance, space is limited.
• NO PARTNERS ARE NECESSARY, since we rotate as each step is taught during partner work. This will help you learn how to lead or follow with multiple partners.
• WEAR COMFORTABLE ATTIRE that does not constrain your movement!
• WEAR LEATHER SOLED SHOES OR SOCKS, no flip flops or sneakers (unless they are dance sneakers). Dance shoes are the best choice.
• BRING A GREAT POSITIVE ATTITUDE AND GET READY TO HAVE SOME FUN!
Salsa Skill Level Descriptions
Level 1 Beginner level: The beginner Salsa class offers students the basic fundamentals and introductory techniques of Salsa. Students learn the basic salsa step, cross body lead, turns and musicality.
Level 2 Advanced Beginner level: The advanced beginner Salsa class offers students combinations of core techniques allowing the student to learn simple patterns and develop muscle memory.
Salsa Workshops: These workshops are offered in an effort to challenge our students with specialty areas such as styling techniques, spinning, advanced partner work, shines, and body movement.